Ubuntu on smartphones at Mobile Asia Expo
Ubuntu mobile OS already in use, and backed by major global carriers
Mobile Asia Expo starts this week in Shanghai, and we're getting ready to show off the rapid progress we've made with Ubuntu for mobiles. Despite only launching in February it's already being used as a daily developer device by many in the Ubuntu community, and we're delighted to have a range of Ubuntu smartphones and tablets on our stand for visitors to try for themselves.
This fast progress is the result of our "daily drivers" push, in which we targeted the core functions that make a phone usable in the real world. That means fully working voice calls and text messages, it means being able to connect to 3G and Wi-Fi networks, and it means importing and editing contacts. We've achieved all of these core goals and more.
We've added clock, calculator, calendar and weather to our growing stock of core Ubuntu applications, all developed by the community in line with our design principles (see App Design Guidelines). We've begun to integrate social media feeds, starting with Twitter and Facebook, and our distinctive home screen infographic will soon be a functioning element with an unlock mechanism.
The community has been busy testing Ubuntu on nearly 40 popular phones and tablets (see Ubuntu Wiki on devices), in addition to the four Nexus devices we officially support. And we've attracted some of the world's biggest operators, who have committed to supporting Ubuntu's mobile development through the newly formed Carrier Advisory Group.
In short, we're well on our way to making Ubuntu the first operating system to offer a unified set of interfaces that runs across phone, tablet, PC and TV. If you're coming to the show, be sure to stop by our stand to try Ubuntu phone for yourself.
Also at Mobile Asia Expo
Mark Shuttleworth, founder of Ubuntu and Canonical, will be speaking to Mobile World Live on Wednesday 26th June. The interview will appear on Mobile World Live Daily Edition and online.
Mark will also be giving a Cloud for Telcos presentation during the Analysing Big Data keynote session on Thursday 27th June from 9.15-10.45 in the Kerry Hotel Auditorium 1.
We'll be taking part in the Innovation Labs on Wednesday 26th and Thursday 27th June. Richard Collins, Product Manager at Canonical, will be explaining the principles behind the design and interaction of Ubuntu phone, from the use of edge gestures to the simplicity of the Launcher. This will take place in Innovation Lab 2 from 16.30-17.00 on both days.
Visit us at any time to try out a range of phones and tablets running the latest version of Ubuntu, and also to see Ubuntu for Android powering the full desktop OS from mobile hardware. We'll be in Hall N2, Stand A50.
And beyond Shanghai
We'll be at Mobile Monday London on Monday 15th July from 6.00pm to talk about new mobile operating systems in a panel led by Geoff Blaber of CCS Insight. You'll have another opportunity to try Ubuntu on phones and tablets for yourself, and we'll have some exciting announcements. Watch this space.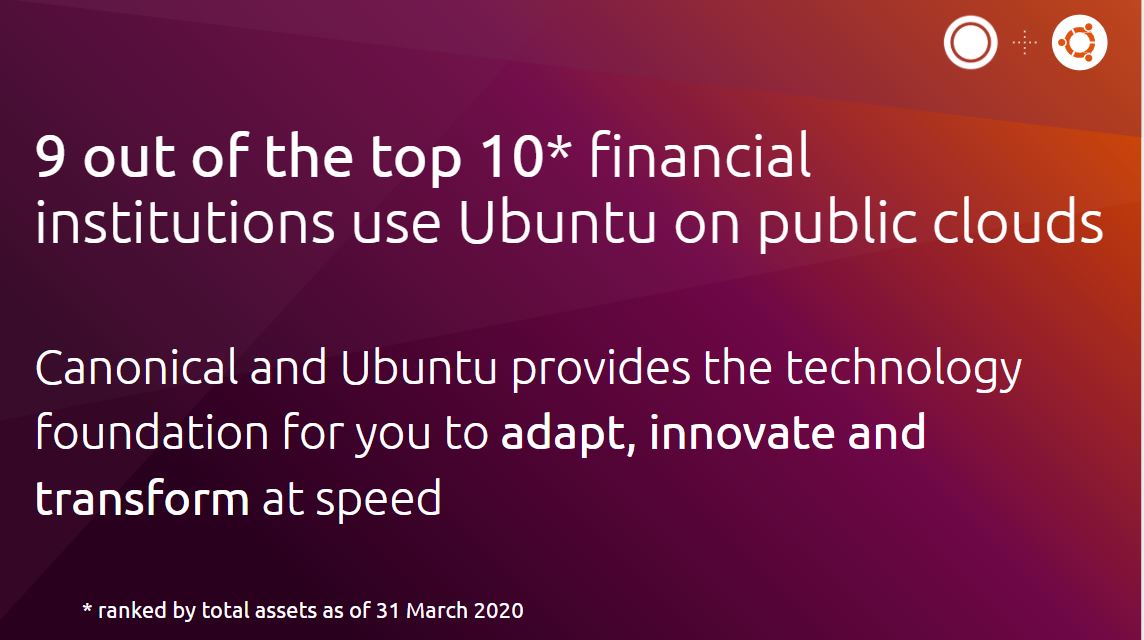 ---
Financial institutions are increasingly pressed for agility and velocity to adapt to changing market conditions, increased customer expectations while satisfying regulatory and compliance requirements.