Ubuntu Live: call for participation is open
The Call for Participation is now open for Ubuntu Live, the first official conference dedicated to this award-winning and popular Linux-based operating system. The three-day event will aim to give participants all the knowledge they need to explore and set in motion the powerful features in Ubuntu and related applications. Program chairs are building an event that will offer expert-led tutorials, big-picture plenary gatherings, focused sessions, and a lively "hallway track" to bring participants face to face with the worldwide Ubuntu community. Ubuntu Live is happening July 22-24, 2007 in Portland, Oregon, right alongside the O'Reilly 2007 Open Source Convention (OSCON). Proposals are due by February 14, 2007.
Ubuntu Live is brought to you by Canonical – the official commercial sponsor and distributor of Ubuntu and related projects – and O'Reilly Media, Inc. – a longtime champion of and participant in the open source community.
"Have a great Ubuntu-related idea that needs exposure to a wider audience? Best practices or knowledge you'd like to share? Want to help guide the future of Ubuntu? If so, we want to hear from you!" says program chair Jane Silber.
The conference will bring together the people who deploy and manage Ubuntu in the enterprise, companies offering services and solutions based on Ubuntu, and the folks who build it. Participants will include IT professionals, government and business leaders, educators, community leaders, and enterprise users.
Submissions are welcome on any aspects of developing, using, customizing, or deploying Ubuntu. Possible areas of interest include:
Ubuntu in small and medium businesses
High performance computing
Ubuntu in the

NGO

/non-profit sector
Building Ubuntu derivatives
Ubuntu in education
Building Ubuntu-based appliances/products
Point of sale, mobile, scientific research, banking, and other verticals
Performance optimization in large enterprise
Community contributions
The program committee will be selecting a set of presentations to cover a range of audience interests. The committee is also interested in proposals from speakers whose experience is based on Kubuntu, Edubuntu, or another Ubuntu derivative.
Founded by Mark Shuttleworth, Ubuntu is developed and supported by a large community committed to the principles and spirit of open source. Ubuntu emphasizes the interconnectedness of the work of many project contributors from around the world and accessibility for all users regardless of language or abilities. Ubuntu Live is the official, trusted event for the Ubuntu community, welcoming all its various segments–experts, longtime users, established companies, and newcomers alike in a passionate, energizing environment.
Important Dates:
Submission deadline for all proposals is February 14, 2007.
Speakers will be notified by February 26, 2007.
General registration will open in April 2007.
Additional Resources:
For conference details and to submit a proposal, visit: http://www.ubuntulive.com
To receive Ubuntu announcements, sign up for the conference newsletter (login required): http://www.oreilly.com/cs/nl/home#conferences/
For information on exhibition and sponsorship opportunities at O'Reilly conferences, contact

sponsorships@oreilly.com
To become a media partner, email

mediapartners@oreilly.com
Upcoming O'Reilly conferences:
O'Reilly Emerging Telephony Conference, February 27-March 1, 2007 in Burlingame, California
O'Reilly Emerging Technology Conference, March 25-29, 2007 in San Diego
Web 2.0 Expo, co-produced by O'Reilly Media and

CMP

Technology, April 15-18, 2007 in San Francisco, CA
MySQL Conference & Expo, April 23-26, 2007 in Santa Clara, CA
RailsConf, May 17-20, 2007 in Portland, OR
O'Reilly Where 2.0 Conference, May 29-30, 2007 in San Jose, CA
O'Reilly

TOC

Conference, June 18-20, 2007 in San Jose, CA
O'Reilly Open Source Convention, July 23-27, 2007 in Portland, OR
RailsConf Europe, co-presented by O'Reilly Media and Ruby Central, September 17-19, 2007 in Berlin, Germany
O'Reilly conferences bring together forward-thinking business and technology leaders, shaping ideas and influencing industries around the globe. For over 25 years, O'Reilly has facilitated the adoption of new and important technologies by the enterprise, putting emerging technologies on the map.
About Canonical and Ubuntu
Canonical, the commercial sponsor of Ubuntu, is a global organization headquartered in Europe committed to the development, distribution and support of open source software products and communities. World-class 24×7 commercial support for Ubuntu is available through Canonical's global support team and partners. Since its launch in October 2004 Ubuntu has become one of the most highly regarded Linux distributions, with millions of users around the world. Ubuntu will always be free to download, free to use and free to distribute to others. With these goals in mind, Ubuntu aims to be the most widely used Linux system, and is the centre of a global open source software ecosystem. Download Ubuntu from www.ubuntu.com/download. To learn about commercial support for Ubuntu, Kubuntu and Edubuntu, please see www.canonical.com/support. For more information visit www.canonical.com or www.ubuntu.com.
About O'Reilly
O'Reilly Media spreads the knowledge of innovators through its books, online services, magazines, and conferences. Since 1978, O'Reilly has been a chronicler and catalyst of leading-edge development, homing in on the technology trends that really matter and spurring their adoption by amplifying "faint signals" from the alpha geeks who are creating the future. An active participant in the technology community, the company has a long history of advocacy, meme-making, and evangelism. For more information, visit: http://www.oreilly.com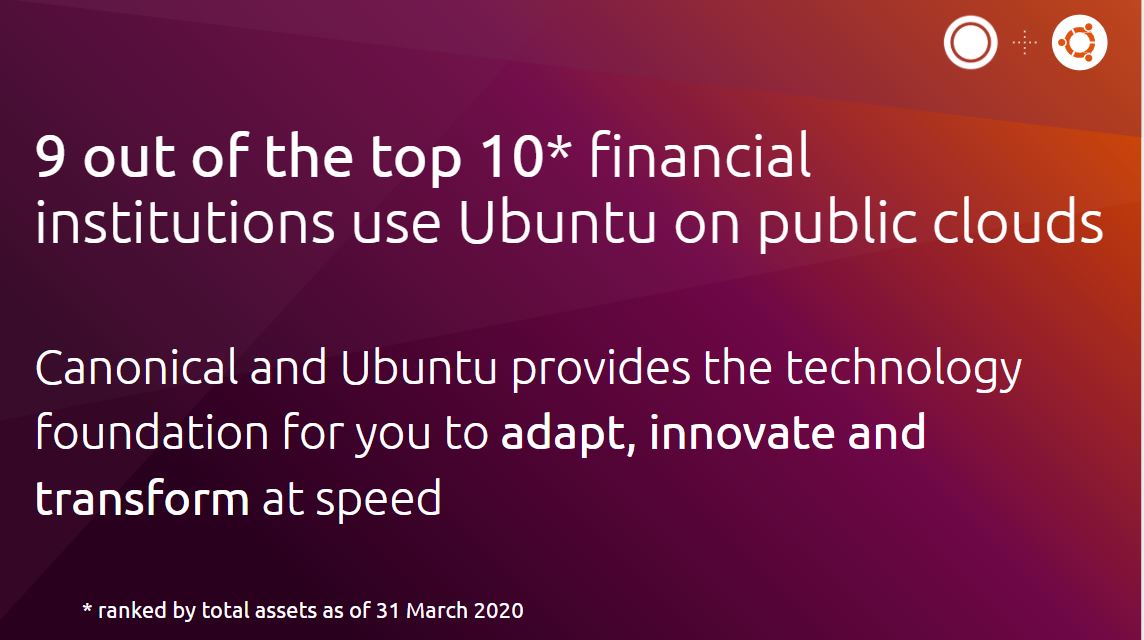 ---
Financial institutions are increasingly pressed for agility and velocity to adapt to changing market conditions, increased customer expectations while satisfying regulatory and compliance requirements.