Canonical announces provisional Ubuntu Developer Summit tracks
Canonical announces provisional Ubuntu Developer Summit tracks
Held in October, UDS Tracks & Details Available on Newly-Launched uds.ubuntu.com
Canonical Ltd., the commercial sponsor of Ubuntu, unveiled the a list of provisional tracks for the Ubuntu Developer Summit (UDS) scheduled for October 25-29, 2010 in Orlando, Florida.
To be confirmed, along with more announced, in coming weeks, the tracks were made available today on the newly-launched UDS site. The site is a destination for information about the event for the key participants in Ubuntu's development, from Canonical engineers and community members to ISVs and partners.
"UDS is a chance to bring all of the contributors to Ubuntu together in one place, where face-to-face meetings make all the difference in a community-focused development process," said Rick Spencer, Ubuntu Engineering Director at Canonical. "We're getting a few ideas out now for track topics and will have more to come this month, so stay tuned."
Taking place this year at the Caribe Royal in Orlando, the first wave of UDS track-ideas include:
Hardware Compatibility – Sessions that discuss ensuring that hardware works effectively in Ubuntu.
Ubuntu The Project – Refining and improving how our community and developer processes work, ensuring a capable and energized Ubuntu community.
Performance – Sessions about performance and optimization across the Ubuntu editions and stack.
Package Selection and Defaults – Sessions that discuss the software choices made in all editions of Ubuntu, and the issues, opportunities and challenges faced in making those decisions.
Application Developers – Designed to empower, engage and harness application developers to develop on and for Ubuntu. These sessions cover the many elements in achieving that goal.
Cloud Infrastructure – The cloud is a key target platform and area of technology. These sessions cover Ubuntu cloud technology and community growth.
As tracks finalized, they will appear on the live schedule.
UDS is the seminal Ubuntu event in which the company defines the focus and plans for the up-coming version of Ubuntu. The event pulls together Canonical engineers, community members, partners, ISVs, upstreams and more into an environment focused on discussion and planning.
Every Ubuntu Developer Summit has four primary focal points:
Ideas – Together we bring our own ideas and creative solutions to common problems to help make Ubuntu better across the platform.
Discussion – The bulk of

UDS

are discussion sessions we explore problems and develop solutions together, pooling our experience and expertise.
Planning – Solutions are documented, specifications are written, and work items are assigned across all those participation in solutions.
Collaboration –

UDS

brings together a diverse range of participants and provides the perfect environment for collaboration and best practice.
For more information, please visit the UDS website.
About Canonical
Canonical provides engineering, online and professional services to Ubuntu partners and customers worldwide. As the company behind the Ubuntu project, Canonical is committed to the production and support of Ubuntu – an ever-popular and fast-growing open-source operating system. It aims to ensure that Ubuntu is available to every organisation and individual on servers, desktops, laptops and netbooks.
Canonical partners with computer hardware manufacturers to certify Ubuntu, provides migration, deployment, support and training services to businesses, and offers online services direct to end users. Canonical also builds and maintains collaborative, open-source development tools to ensure that organisations and individuals can participate fully in innovations within the open-source community. For more information, please visit www.canonical.com.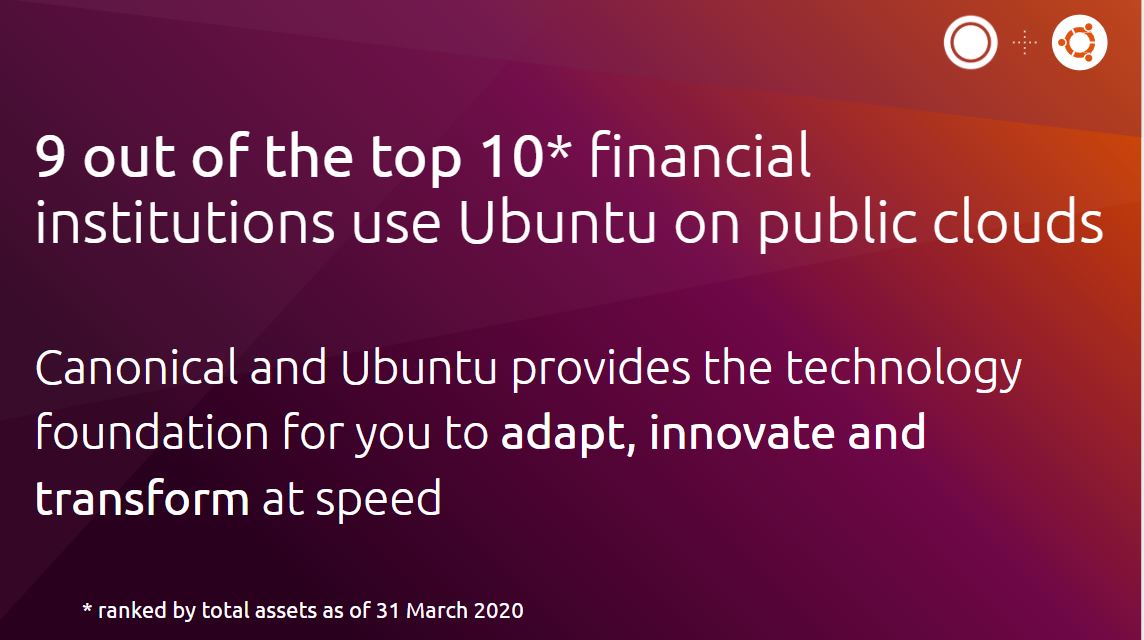 ---
Financial institutions are increasingly pressed for agility and velocity to adapt to changing market conditions, increased customer expectations while satisfying regulatory and compliance requirements.