Canonical and the Ubuntu UK community invite you to the "Ubuntu In Business" event on July 13th in central London
A new kind of tech event sees advocates combine to bring the open-source message direct to UK businesses
Canonical, the company behind Ubuntu, and the Ubuntu UK Community are jointly hosting an event aimed at introducing Ubuntu direct to UK businesses. Ubuntu is extremely popular with desktop users and widely used in UK datacentres as a server technology. The 'Ubuntu In Business' event provides a forum for IT professionals to get a clearer idea of the potential of Ubuntu and understand the applications, services and training options that abound for this product in desktop, server and cloud environments.
The event itself will provide an introduction to Ubuntu at both a practical and strategic level to how companies are deploying it today and to the applications companies can deploy on it. In keeping with the hands-on feel, attendees will be able to view product demonstrations while networking with Canonical, partner and community representatives. The event will conclude with a panel discussion where they can quiz a variety of open-source advocates on the value of pursuing an Ubuntu strategy in their organisation.
"There is incredible enthusiasm within the Ubuntu advocate community to help spread the presence of this technology more widely in their workplaces" said Alan Pope of the UK Ubuntu community. "We are delighted to host with Canonical a forum where these advocates can bring their colleagues, their reports and their bosses to learn more about Ubuntu in a structured, professional environment."
"We have seen Ubuntu grow enormously in the corporate UK over the last  five years", said Gerry Carr, Head of Platform Marketing at Canonical. "Much of this growth is below the radar and often thanks to  enthusiasts deploying a practical solution to solve a specific problem. We want to support that enthusiast and give them an opportunity to show how solid and sound a choice they made in Ubuntu and help them push it further into their organisation."
The event will be held on July 13th at The Brickhouse, Brick Lane London. The agenda will run from 13:00 – 17:00 and the bar will be open into the evening.
Who should attend: Ubuntu advocates who have deployed or who want to deploy Ubuntu where they work are encouraged to bring their colleagues to let them discover the power and cost savings of an Open Source solution.
How to register:
Registration is free. Please register all attendees
Agenda:
1pm – Welcome
An introduction to Ubuntu and our community.
1.20 – Ubuntu in action
A selection of case studies of companies using Ubuntu to enhance their business.
Oxford Archaeology
Chris Puttick, Chief Information Officer, will explain how one of the largest independent archaeology and heritage practices in Europe, with over 400 specialist staff, took the strategic decision to adopt an open source infrastructure with Ubuntu at the heart of it.
Emphony Technologies
A start-up software company producing engineering project management and workflow tools for decided to deploy Ubuntu as its infrastructure, find out how they got on and their plans for the future.
1.40 – Open Mic
Ubuntu partners and community members (perhaps including you!) tell us how they use Ubuntu in a business context. There will be 5 minute slots with strict timekeeping!
2.15 – Demonstrations, food and networking
Grab some nibbles and see a selection of demonstrations and hands on workshops featuring:
Ubuntu Enterprise Cloud (Amazon

EC2

compatible cloud computing wherever you want it)
Landscape Systems Management for Ubuntu
Ubuntu Server Edition
Social Media for the workplace with WordPress and Ubuntu
Quick, cheap, easy, low-risk and fun ways to get started with Ubuntu
Ingres, an enterprise class open source database
Alfresco document and content management
4.00 – Ubuntu Advantage
The new services from Canonical designed to give your business an edge in its open source strategy.
4.15 – Panel Discussion
A panel with members drawn from Canonical, partners and the community chaired by author and journalist Glyn Moody and loosely following the theme of "The Benefits and Pitfalls of an Open Source Strategy".
5.00 – Late
Attendees are encouraged to stay on, sample an Ubuntini at the bar, have a chat and enjoy the comedy night hosted by the venue itself.
About Canonical
Canonical provides engineering, online and professional services to Ubuntu partners and customers worldwide. As the company behind the Ubuntu project, Canonical is committed to the production and support of Ubuntu – an ever-popular and fast-growing open-source operating system. It aims to ensure that Ubuntu is available to every organisation and individual on servers, desktops, laptops and netbooks.
Canonical partners with computer hardware manufacturers to certify Ubuntu, provides migration, deployment, support and training services to businesses, and offers online services direct to end users. Canonical also builds and maintains collaborative, open-source development tools to ensure that organisations and individuals can participate fully in innovations within the open-source community. For more information, please visit www.canonical.com.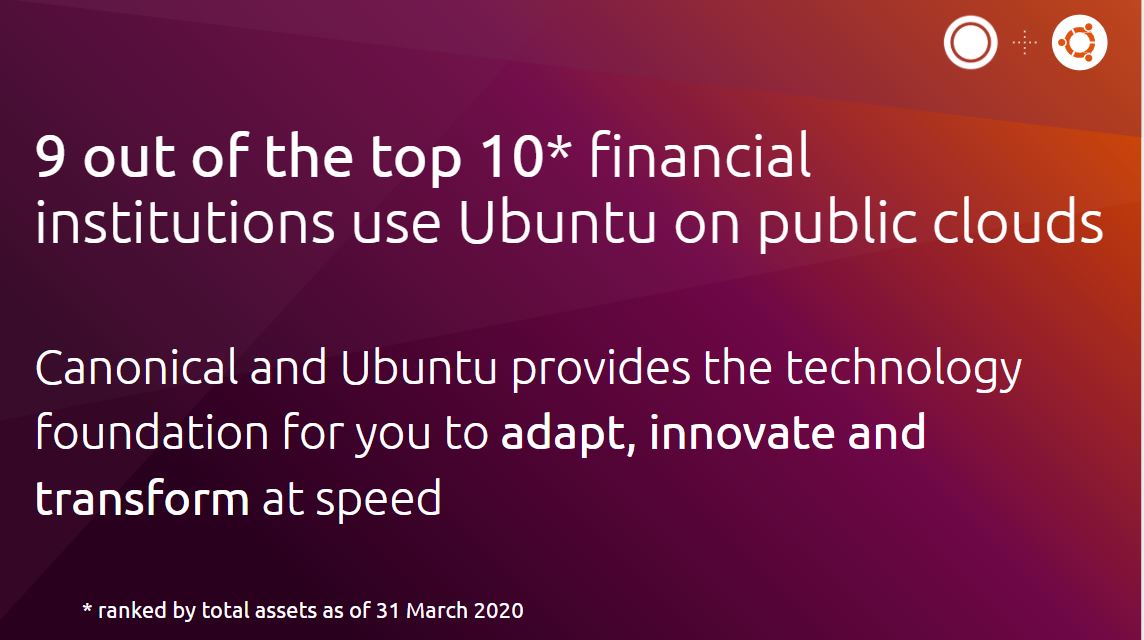 ---
Financial institutions are increasingly pressed for agility and velocity to adapt to changing market conditions, increased customer expectations while satisfying regulatory and compliance requirements.