Thank you for downloading Ubuntu Server
Your download should start automatically. If it doesn't, download now.
Lightweight, reliable Kubernetes
Need a fast, reliable, single-node K8s up and running under 60 seconds?
Made for developers, great for IoT and AI on the edge.
Before you start, you'll want this eBook
Server provisioning: what Network Admins and IT pros need to know
This document is designed to help system administrators and DevOps focused organisations to understand bare metal server provisioning, understand its value proposition, and learn about how leading companies are using server provisioning solutions within their hyperscale environments.
Canonical's MAAS helps organisations to take full advantage of existing hardware investments by maximising hardware efficiency, and a pathway to leverage the performance and security of hardware based solutions with the economics and efficiencies of the cloud.
Your next steps with Ubuntu Server
Use Ubuntu's tools to help you provision and manage your servers.
Server management with Landscape
Landscape is the leading management tool to deploy, monitor and manage your Ubuntu servers

Landscape supports livepatch so you can apply kernel patches and security updates without having to reboot

Landscape is also available as part of Ubuntu Advantage, Canonical's world-class support service
Server provisioning with MAAS
Metal as a Service (MAAS) offers cloud style provisioning for physical servers
Designed for building data centres with complex networks
Supports Windows, Ubuntu, CentOS, RHEL and SUSE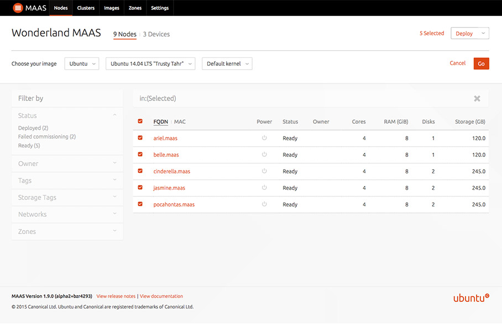 Installation guides
If you need some help installing Ubuntu, please check out our step-by-step guides.
Ubuntu Advantage
Commercial support agreements to suit your business needs.
Ask Ubuntu
Need help? Ask your questions here.