Dell and Canonical at KubeCon + CloudNativeCon Europe
Canonical, the company behind Ubuntu, has enjoyed a partnership with Dell Technologies for over a decade. Together, they have collaborated to develop a series of cutting-edge reference architectures applicable to various industries, providing customers with unparalleled experiences and value.

This year at KubeCon + CloudNativeCon Europe (18-21 April), Canonical and Dell Technologies will once again team up to make a powerful impact at the event in Amsterdam. Attendees can expect to hear exciting announcements, witness impressive demos, and much more from these two industry leaders.
Community Appreciation Event

Before KubeCon 2023 kicks off, Canonical and Dell Technologies will host an exclusive appreciation event for the community at the renowned Barça Restaurante in Amsterdam.

Prepare for an unforgettable evening filled with great cuisine and signature cocktails, including the Git Blossom and Kubeflow Punch. Enjoy the company of fellow community members and make meaningful connections over drinks and food.

Be sure to secure your spot by registering for the event, as space is limited. Pre-registered guests will receive guaranteed access to this highly-anticipated gathering. Don't miss out on this incredible opportunity to mingle with industry leaders and peers in a beautiful setting.

Dell + Canonical Community Appreciation Event
April, 18th – 7pm
Register here
Presentations and Demos

Make sure to stop by the Canonical and Dell booths to get a first-hand look at the latest advancements and gain valuable insights on the most pressing industry topics at KubeCon.

Canonical's booth will feature a demonstration of MicroK8s on XPS, showcasing the powerful capabilities of the platform. Meanwhile, Dell's booth will demonstrate Telco optimization using open-source MLOps, providing valuable knowledge on this cutting-edge technology.

In addition to the demos, there will be numerous presentations and informative sessions to take advantage of. Come visit our booths and get a look at all the exciting demos and presentations that we have in store for you!
Canonical experts as special guests on Dell's podcast

Dell will conduct special podcast sessions in their booth, featuring two esteemed executives from Canonical: Maciej Mazur, Director of MLOps, and Alex Jones, Kubernetes Engineering Director. Join these industry experts as they share their vast knowledge and insights on the latest trends, technology, and community developments.

In these exclusive podcast sessions, attendees will gain valuable insights on cutting-edge topics, as well as have the opportunity to learn from some of the brightest minds in the industry.

Be sure to visit Dell's booth and podcast platform and tune into these engaging and informative podcast sessions to stay on top of the latest trends and developments in the industry!
Unleashing the power of the new Dell XPS 13 Plus Developer Edition

A decade ago, Dell and Canonical joined forces to launch Project Sputnik, an innovative initiative aimed at providing application developers with high-end Dell systems preinstalled with Ubuntu to meet their specific needs. Today, this product line has reached its 12th generation, highlighted by the recent launch of the Dell XPS 13 Plus Developer Edition.

Discover the fascinating history behind this game changing product by reading our blog, and witness it in action at the Dell and Canonical booths! Our staff will showcase the full capabilities of the Dell XPS 13 Plus Developer Edition, running demos and presentations that highlight its impressive performance and versatility.

Don't miss out on this incredible opportunity to see the Dell XPS 13 Plus Developer Edition in action and discover its amazing features and capabilities first-hand!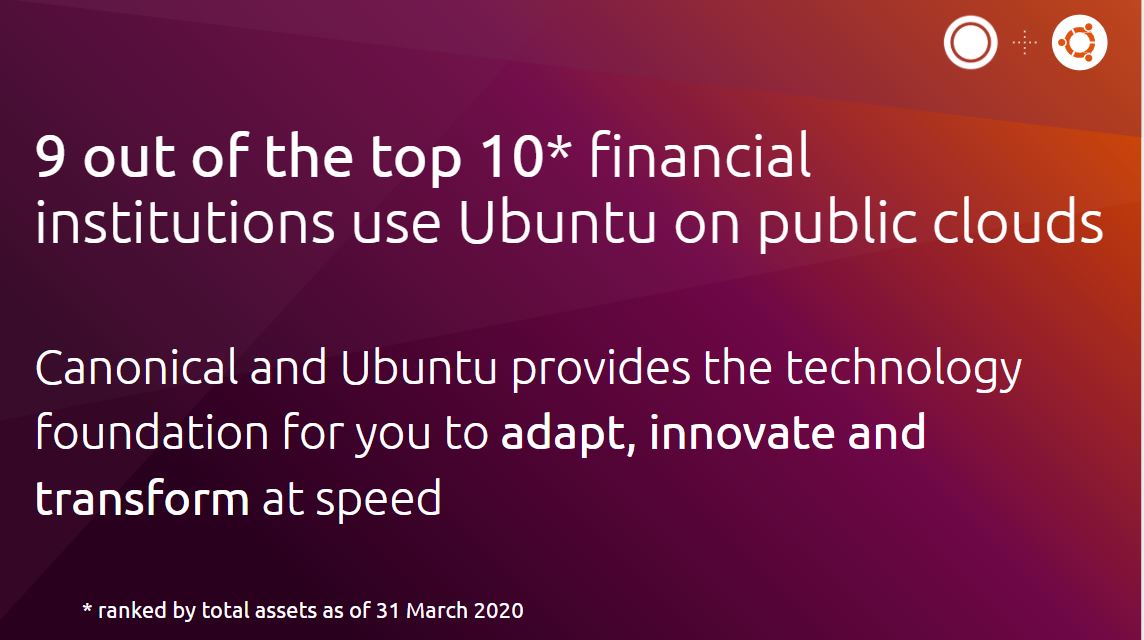 ---
Financial institutions are increasingly pressed for agility and velocity to adapt to changing market conditions, increased customer expectations while satisfying regulatory and compliance requirements.