Canonical's Ubuntu Developer Summit to bring together international community of developers to build the next Ubuntu
LONDON, October 20, 2010 – On the heels of Canonical's latest release, Ubuntu 10.10, the company will begin its Ubuntu Developer Summit (UDS) on October 25, 2010 to discuss, design and develop Ubuntu 11.04 (Natty Narwhal) for release in April 2011.
UDS is the Ubuntu event where the company – and the community – defines the focus and plans for upcoming versions of Ubuntu. The event pulls together Canonical engineers, community members, partners, ISVs, upstreams and more into an environment focused on discussion and planning.
For the first time, the opening keynote by the founder of the Ubuntu project, Mark Shuttleworth, will be streamed live from the event. The keynote will set out the strategic direction for the next release and also give insight to how users can expect to experience Ubuntu in coming months. For people interested in the project, it is essential viewing
"What continues to make Ubuntu special is the global community involved in every step of its design and development. UDS is vital to that process by gathering all of the contributors to Ubuntu in a few rooms – and now virtually," said Rick Spencer, Ubuntu Engineering Director at Canonical. "We're always looking for smart, creative people to add to the community, and this is a great opportunity for them to see what's possible by working on Ubuntu."
Event: UDS – Natty Narwhal (Ubuntu 11.04)
Dates: October 25-29, 2010
Location: Caribe Royal in Orlando, Florida
Important links:
* These links will be live as of Monday, October 25, 2010.
About Canonical
Canonical provides engineering, online and professional services to Ubuntu partners and customers worldwide. As the company behind the Ubuntu project, Canonical is committed to the production and support of Ubuntu – an ever-popular and fast-growing open-source operating system. It aims to ensure that Ubuntu is available to every organisation and individual on servers, desktops, laptops and netbooks.
Canonical partners with computer hardware manufacturers to certify Ubuntu, provides migration, deployment, support and training services to businesses, and offers online services direct to end users. Canonical also builds and maintains collaborative, open-source development tools to ensure that organisations and individuals can participate fully in innovations within the open-source community. For more information, please visit www.canonical.com.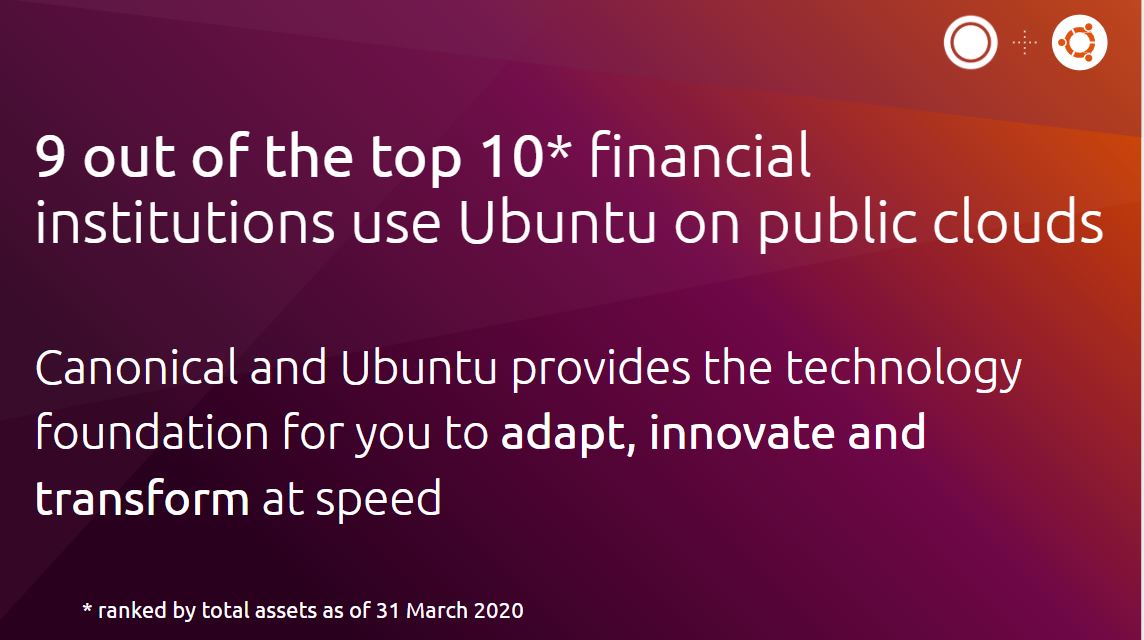 ---
Financial institutions are increasingly pressed for agility and velocity to adapt to changing market conditions, increased customer expectations while satisfying regulatory and compliance requirements.