Canonical hosts leading ODMs at Ubuntu Hardware Summit
---
Original equipment manufacturers (OEMs) and original design manufacturers (ODMs) learn latest techniques about shipping Ubuntu, hardware enablement and more
Engineers and product managers from device and computer manufacturers and designers will meet in Taipei, Taiwan for a free day-long session hosted by Canonical Ltd. on September 24, 2010.
The commercial sponsor of Ubuntu will host its annual Ubuntu Hardware Summit, (UHS), which includes keynote speeches from various members of the Canonical team, and topics ranging from how Canonical works with Original Design Manufacturers (ODMs), boot time optimizations, hardware enablement, debugging, multi-touch, networking and more. Over 200 attendees are expected to attend from all facets of the PC ecosystem.
"ODMs and OEMs know Ubuntu, and many are already shipping it pre-installed on computers. UHS is a forum to learn the latest techniques for working with Ubuntu and getting devices to market faster and more efficiently," said Jon Melamut, VP, Sales and Product Management, OEM Services at Canonical. "In our second year, we are seeing a huge response in planned attendance from the biggest names in the industry. It's becoming a must-attend event."
"The Ubuntu Hardware Summit provides an opportunity to understand what's really happening within Canonical and with the Ubuntu development process," said Leo Chen, Senior Software Manager at Quanta. "When we attended the inaugural UHS last year, it was a big help to our device design and deployment."
Confirmed topics include
An overview of multi-touch support in Ubuntu, covering kernel drivers, the X input stack, and applications. A demonstration of Ubuntu multi-touch support will be provided.

A general look at the debugging process of Linux Kernel suspend/resume errors, paying particular interest to a specific bug which caused weeks of pain for the presenter.
An overview of how OEMs and ODMs can work more efficiently with Canonical to build successful Ubuntu-based devices.

A session on the gesture suite that will make its first appearance in the 10.10.10 build of Ubuntu. The code is published under GPLv3 and LGPLv3.

An explanation of issues to avoid and good practice to follow with BIOS and ACPI to ensure firmware works well with Linux the first time.
Details
The Ubuntu Hardware Summit will take place at the Grand Victoria Hotel, No. 168, Jingye 4th Rd., in Taipei, Taiwan on September 24, 2010. To register, please visit the UHS 2010 web page.
About Canonical
Canonical provides engineering, online and professional services to Ubuntu partners and customers worldwide. As the company behind the Ubuntu project, Canonical is committed to the production and support of Ubuntu – an ever-popular and fast-growing open-source operating system. It aims to ensure that Ubuntu is available to every organisation and individual on servers, desktops, laptops and netbooks.
Canonical partners with computer hardware manufacturers to certify Ubuntu, provides migration, deployment, support and training services to businesses, and offers online services direct to end users. Canonical also builds and maintains collaborative, open-source development tools to ensure that organisations and individuals can participate fully in innovations within the open-source community. For more information, please visit the Canonical website.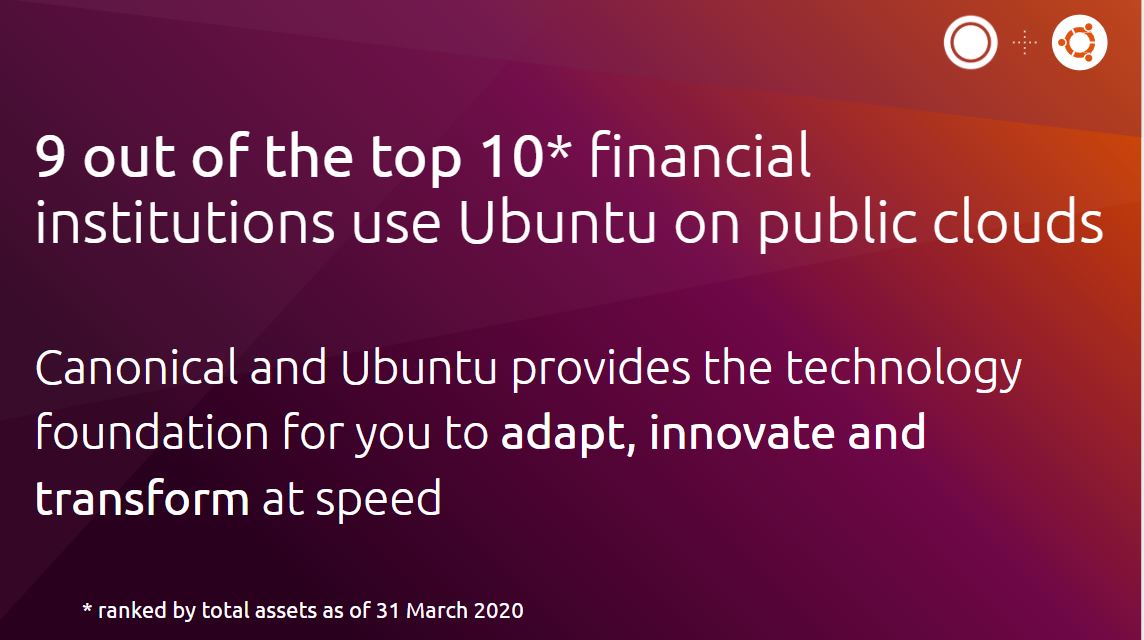 ---
Financial institutions are increasingly pressed for agility and velocity to adapt to changing market conditions, increased customer expectations while satisfying regulatory and compliance requirements.