Canonical at VMWorld 2009
Next week (31 August through 3 September) VMorld 2009 kicks off in San Francisco at the Moscone Center. For the second year, Canonical has a booth to demonstrate Ubuntu's virtualization and cloud computing capabilities.
Last year VMWorld 2008 was in sunny Las Vegas. We talked to thousands of people throughout the show, and only found a handful who hadn't used Ubuntu – don't worry we sent every one away with a free CD so they could put that right! It was a great show with lots of interest in Ubuntu following on from the 8.04 LTS release, and our virtualization solution.
We expect the 2009 show to be just as much fun. Ubuntu has been on the top of the VMWare charts as a base OS for many virtual machine images, so we hope that the new virtualization features coming in 9.10 will be well received. In 9.04 we previewed Ubuntu Enterprise Cloud (UEC) our private or on-premises cloud. This gives anyone who has their own servers the ability to set-up a cloud similar to Amazon's EC2.
We'll be presenting a talk for enterprises on how cloud computing can help them at the Solution Exchange Theatre on Wednesday 2nd September at 11:50 am. Entitled "The Clear Path to a Cloudy Enterprise", it will be given by John Pugh, one of Canonical's Partner Managers. If you would like to hear about the future of cloud computing, how open source offers a real alternative, and how Ubuntu can be used in this scenario then this talk should be informative and fun.
If you are going to be at VMWorld then please come along to the Canonical booth (#2403) and say hello to us. We would love to talk to you about Ubuntu, how you're using it, and how you can get more from it – see you
in San Francisco!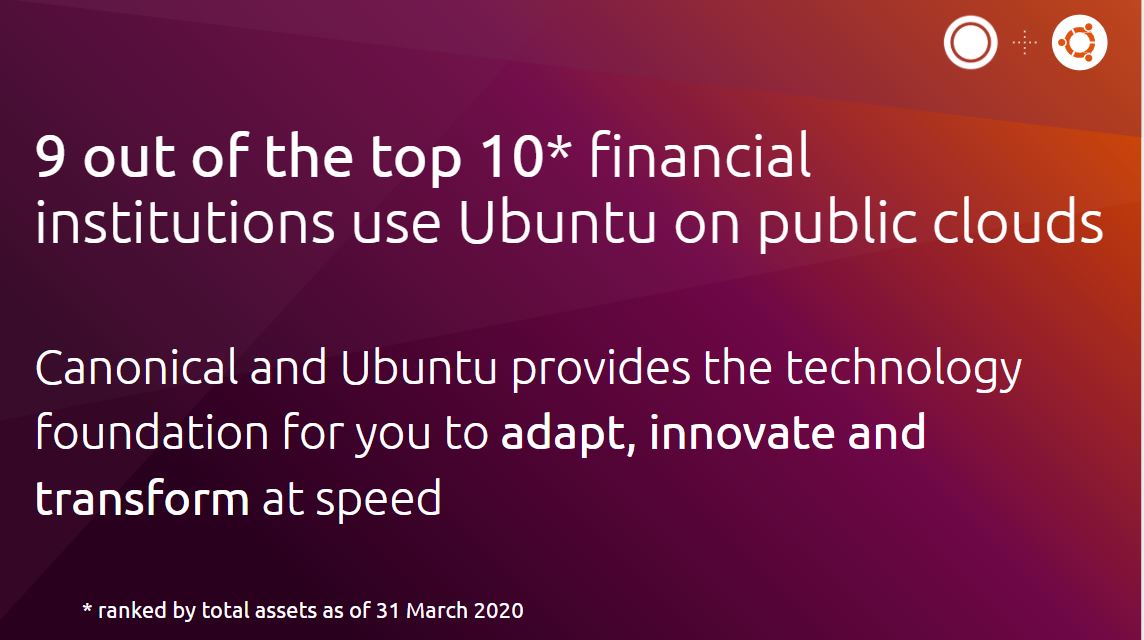 ---
Financial institutions are increasingly pressed for agility and velocity to adapt to changing market conditions, increased customer expectations while satisfying regulatory and compliance requirements.