Canonical at AWS re:Invent – What you need to know!
Though the Las Vegas Grand Prix has come to a close, the Canonical team is gearing up for the next big race at AWS re:Invent, slated for November 27-December 1, 2023. After a thrilling event in 2022, we're excited and proud to be a sponsor once again in 2023. Learn more about the ways that the Canonical team will be driving the conversation.  
Fuel your AWS re:Invent journey with a visit to the Canonical-Ubuntu booth #301 in the Venetian Expo Hall. Join us as we rev up the conversation and explore pivotal topics that will turbocharge the way you approach and optimize your cloud environment.
Our team of experts will be available to offer in-depth insights into the following areas:
Initiate your enterprise AI/ML project using open-source tools like Kubeflow or MLFlow on AWS.
Elevate your Ubuntu fleet to Pro status with a comprehensive understanding of the benefits and the practical how-tos.
Reduce your Total Cost of Ownership (TCO) with insights on smoothly transitioning to Ubuntu Pro
Explore the robust security measures of handling FIPS/CIS workloads using Ubuntu Pro FIPS, ensuring the utmost protection for your critical data
Leverage the power of container technologies including Ubuntu LTS containers and ROCKS within your cloud ecosystem
Review the process of creating personalized golden images based on Ubuntu Pro
EKS cluster creation with Ubuntu and Ubuntu Pro
While at our booth, join us in steering the narrative of open source innovation. Become an Open Source Champion by sharing your unique experiences, perspectives, and visions to earn your well-deserved title plus an exclusive Canonical swag bag.
Take a pit stop on Tuesday, November 28 and join Canonical AI/ML Product Manager Andreea Munteanu for a lightning talk in the Developer Solutions Zone – Theater 3 in the Venetian Expo Hall to discover how enterprises are leveraging Ubuntu as a catalyst for their AI projects. And that's not all! Learn how open source MLOps on AWS can supercharge your journey. 
On Thursday, November 30, our Canonical VP of Cloud, Alex Gallagher will sit down for an exclusive interview with Geekwire to discuss how the future is open source and Canonical's mission to make it secure and accessible to everyone. Stay tuned for our interview to be featured on the Geekwire YouTube channel. 
So, buckle up for an exhilarating ride through the fast lanes of cloud innovation! Whether you're looking to fine-tune your approach, optimize your cloud environment, or simply increase your knowledge, our team at Canonical-Ubuntu is here to ensure your journey is nothing short of extraordinary. We'll see you at the finish line!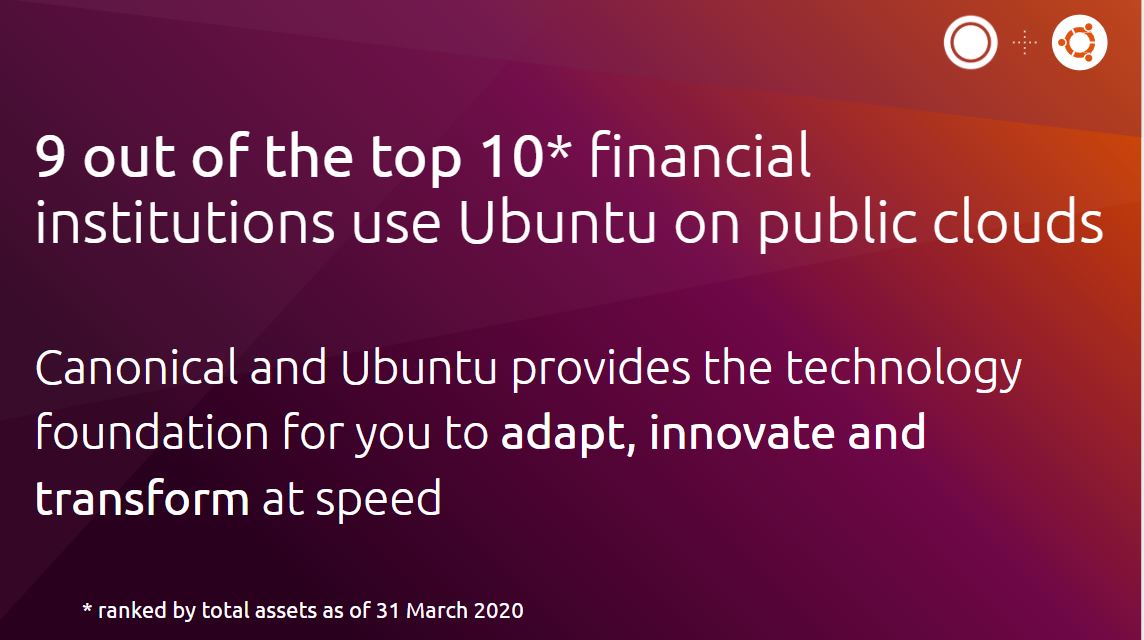 ---
Financial institutions are increasingly pressed for agility and velocity to adapt to changing market conditions, increased customer expectations while satisfying regulatory and compliance requirements.