October is here, and along with Halloween, comes a number of big events for the Ubuntu team here at Canonical.
Members of the Ubuntu team will be travelling across Europe and the US at a wide range events covering; Cloud, IoT, AI/ML and much more.
So if you want to know where you can catch up with the Ubuntu team at Canonical and learn about the latest developments then you can find us here:
OpenStack Days Nordics
Stockholm, Sweden 
October 9 & 10
Join us in Stockholm for this two-day event that aims to increase awareness, utilisation and competence surrounding OpenStack.
Presentations and plenty of educational opportunities will be available for you to get stuck in to, so if you are looking for more information on cloud strategies, to business cases, technical deep dives and everything in between, then be sure to meet up with us at the event.
We look forward to seeing you at OpenStack Days Nordics.
GTC Europe
Munich, Germany
October 9 – 11 
Booth S11 
20% Discount Code: GMXGTCEU18
Canonical will be presenting demonstrations of Kubeflow running in a fully supported K8s environment, how to get up and running with Kaggle competitions on Kubeflow and Kubernetes, which can be accelerated with GPU compute on a bare metal substrate.
So, if you're interested in seeing how these offering support companies with AI/ML engineers then join us at GTC Europe, Booth: S11 at the International Congress Centre in Munich.
SDN NFV World Congress
The Hague, Netherlands
Oct 8 – 12
Booth B43
With over 1,700 executives, decision makers, leaders and activists, SDN NFV World Congress at The Hague is the place to be.
This year the four day event will be focusing on:
Technology – Cloud-Native NFV, Hybrid, Interop, SDN, White box, Security
Automation – AI, Zero Touch, Orchestration, Programmable Cloud, OSS/BSS, API
Business – 5G, Services Transformation, SD-WAN, Application use-cases
There is also set to be dedicated forums looking at the; 'Network Edge', 'Open Telco', and '5G'.
The Ubuntu team will be stationed at Booth B43, and walking around the conference, feel free to stop by and have a conversation.
Nathan Rader, director NFV strategy, Canonical, will also be speaking on a panel debate entitled, 'What are the new steps for orchestration?' at 16:50 pm local time on Monday the 8th.
IoT World Congress
Barcelona, Spain
Oct 16 – 18
Booth B220
With over 14,000 attendees from 120 countries, the IoT World Congress event in Barcelona is a must attend for anyone interested in the internet of things. The three day event offers more than 300 top-level speakers and insights into cutting edge technologies that are changing the world.
The Ubuntu team at Canonical will be in attendance at booth B220, in Hall 2.
IoT Security Summit
Dallas, Texas, USA
Oct 16 & 17
Booth 5 
30% Discount Code: CANONICAL
For anyone in the US that is unable to make it to Europe for the IoT World Congress, but wants to hear what we have to say about security and the internet of things, you can join us at the IoT Security Summit in Dallas, Texas, on October the 16th and 17th.
Billed as "Solving major IoT vulnerabilities through Identity & Access Management, Blockchain, and Data Privacy," this is a must attend event, and we have plenty of solutions to your IoT security problems.
Come visit us at Booth 5 and use the discount code: CANONICAL for 30% off.
LISA 18
Nashville, Tennessee, USA
Oct 29 – 31
Booth 209
In what promises to have a bit more of a Halloween feel to it, LISA 18 will be hitting Nashville, Tennessee from October 29 – 31st.
LISA is the premier conference for operations professionals, where sysadmins, systems engineers, IT operations professionals, SRE practitioners, developers, IT managers, and academic researchers share real-world knowledge about designing, building, securing, and maintaining the critical systems of our interconnected world.
We'll be based at Booth 209, where you can come visit us and ask us anything.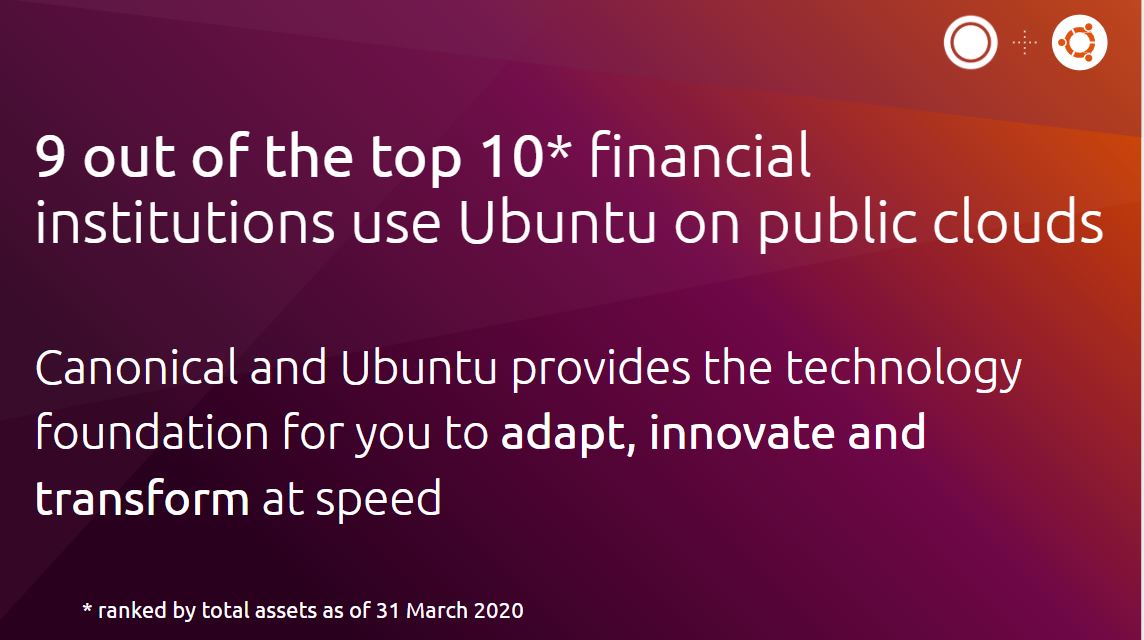 ---
Financial institutions are increasingly pressed for agility and velocity to adapt to changing market conditions, increased customer expectations while satisfying regulatory and compliance requirements.