What is SMART START?
SMART START is a comprehensive services package that allows enterprises to bootstrap commercial IoT products. SMART START reduces the risks and uncertainty involved in launching and scaling commercial IoT products while accelerating time to market.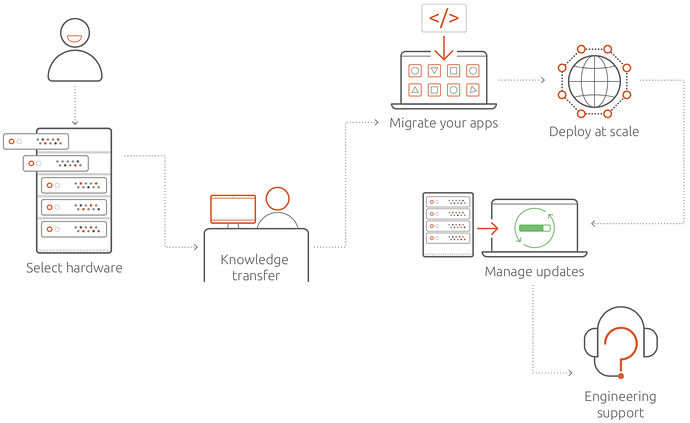 Bringing IoT products to market requires varied capabilities ranging from embedded engineering, app development, backend hosting, software update infrastructure, maintenance and after-sales customer support. Deploying these capabilities at scale typically requires large upfront investments.The complexity involved in acquiring and orchestrating these capabilities delays time-to-market.
SMART START brings agility to enterprise IoT projects. Through this bundle enterprises embrace a lean methodology for IoT product commercialisation. Innovative companies can leverage this offering to bring the first version of a product to market quickly. SMART START enables enterprises to carry out product discovery and gather initial customer feedback, without committing more resources to scaling their product.
What's included?
Pre-certified hardware
Baseline OS image on pre-certified ARM or x86 board
IoT app embedding
Porting of up to 3 IoT applications to snaps
Hosted cloud infrastructure
A dedicated repository for your apps for up to 1,000 devices
Over the air (OTA) update services
Monthly OTA software updates for a year
Technical support
Engineering support (24/5)
Training options
Dedicated engineering and product training workshops
Add-ons (optional)
Board bring-up (custom kernel with BSP integration)
Full disk encryption
Secure boot
Helpful resources